On July 13, 2004, Kiet was involved in a "motor vehicle accident" in Baghdad.
An Iraqi drove his car into a U.S. Army convoy. A crash resulted and the Humvee that Kiet was in overturned a number of times.
Being the turret gunner on the Humvee, Kiet was seriously injured. Bad place to be in a crash!
This web site documents the period immediately following the crash and the years up to the present.
Kiet is back on full active duty and has just completed a tour of Afghanistan. He presently has 17 years in the Army.
So as you browse this site, you can be assured that he is back to almost normal although with lots of scars and aches and pains that come with doing bad things to your body.
The Beginning
It began with a phone call from a Lt. Keel at Fort Hood at about 6:45 AM, Oregon time, on July 13, 2004. He read us the email and a FAX that he had received.
Just to give you a feel for our viewpoint at this time....when your son is deployed in Iraq, the last thing, the very last thing you want to get is a phone call from some Army guy asking if you're his parents.
Lt. Keel's first sentence was that Kiet had been involved in a non-fatal motor vehicle accident.
I'm thinking, "NON-FATAL....that's good!"
And he went on about broken legs and ribs and how Kiet was presently in the hospital.
Again, "Hospital....that's good!"
And, from there, we started getting in touch with Baghdad although the delay seemed interminable. It took another day to get more information.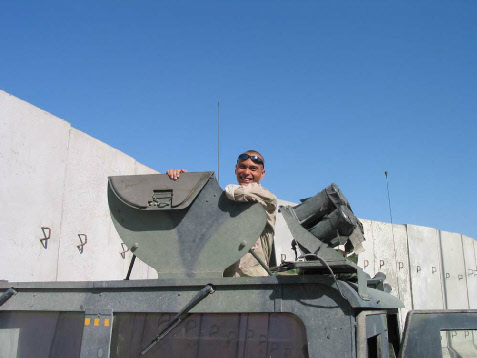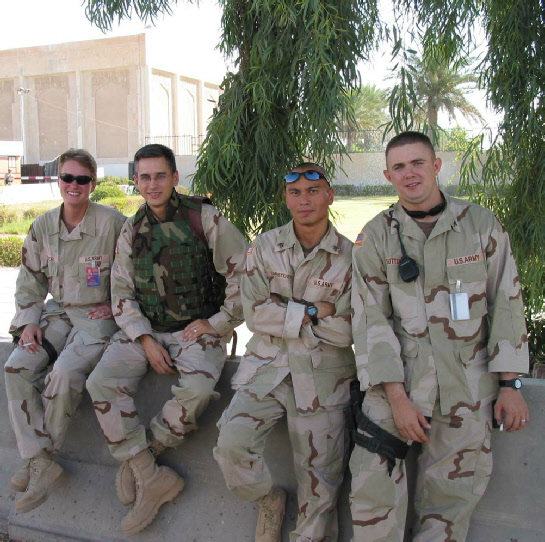 These pictures were taken shortly before the crash. Mouse over the picture at right for names.
Jamie was in another Humvee; Gene was in the same one as Kiet.
The picture on the right is the accident scene. Kiet is saying, "Please get this Humvee off me!" (He may have used stronger language.)
You can see the Iraqi vehicle is also damaged.
Subject: Re: Kiet Christensen
To: Andy and Lynn Christensen
Dear Andy and Lynn Christensen,
My name is First Sergeant George. I have been with your son Kiet this morning and evening. I have been continually checking on him and ensuring that we have one of his soldier friends at his side. Last I saw Kiet was at approximately 1800 at the Combat Support Hospital in the Green Zone. I spoke to Kiet and related that you both were notified of his accident. I am sure that he heard me because he responded by moving his head and chest.
Please understand that his head is bandaged because of his swollen eyes from the accident. This is normal from what the doctors say.
We have been told that as soon as he stabalizes, he will be moved to Landstuhl, Germany. I am going back to the hospital in the morning and will be taking another soldier friend of his with me to be with him. Today SGT Snapp and SGT Janotti stayed with him. Last night my Commander, CPT Townsend stayed with him. We have soldiers that are fighting to be the one to stay with him tommorow and the time following until he is flown to Germany. We will not let him alone while we have the capabilities to be with him here in Iraq.
I have known your son for more than a year and I would like to express the concern and care for him that I have. He is a special soldier and even more so a special man, and even though I am his First Sergeant, and First Sergeants are not really supposed to be friends with Soldiers, because we are supposed to treat everyone the same, he has always been even more special than the normal Soldier because of his caring, performance and love for being a Soldier. He is truly a strong Soldier, and one that is loved by all of his peers.
I will be going to the hospital in the morning. I have a Squad moving out at 0745 to take me and another Soldier to watch for him. As soon as I get back from the hospital, I will send another email.
May I inquire as to whether a doctor has called from the hospital to talk to you and answer any questions. If one has not, please let me know because I will ask one to call to answer any questions that you may have. This morning I was told that one would call you and I just wanted to make sure that one has.
Please let me know if I can answer any questions or do anyting for you. If you have a message to pass on to Kiet, I will gladly deliver it to him in the morning.
Today, I placed a special teddy bear given to him by the soldiers with him. Some of the soldiers said that he was to old to be given teddy bears. I dont think that you can ever be to old to be given a teddy bear. He is in all of our prayers...
v/r 1SG Jody George
We finally heard from 1st Sgt. George. She called us on the phone which made us feel pretty good just to know that we were finally in contact with a real person who was at the scene. She sent this email (unedited) at about the same time which let us know that Kiet was not just another casualty: