Eric Sloane was a man of many talents. From http://www.ericsloane.com/es_bio.htm:
"Eric Sloane was born, Everard Jean Hinrichs on February 27, 1905 in New York City. Early on, he took up an interest in art, spending many boyhood hours with neighbor and noted font inventor, Gaudy (Gaudy Type). From Gaudy, at an early age, he learned to hand paint letters and signs.
Some of his first clients included aviation pioneers flying out of Roosevelt Field, Long Island. Many of those flyers insisted he paint the identifying marking on their planes. In exchange for teaching him to paint, Wiley Post himself, taught the young Hinrichs to fly. After his first flight the young man fell in love with clouds and the sky, themes that would be central to his work for the rest of his life. Among his early clients was Amelia Erhardt, who bought his first cloud painting. Said to be the finest cloud painter of his generation, his largest cloud painting graces an entire wall of the Smithsonian Air and Space Museum in Washington DC. "
Apparently, he was interested in aviation and did this artwork on aluminum.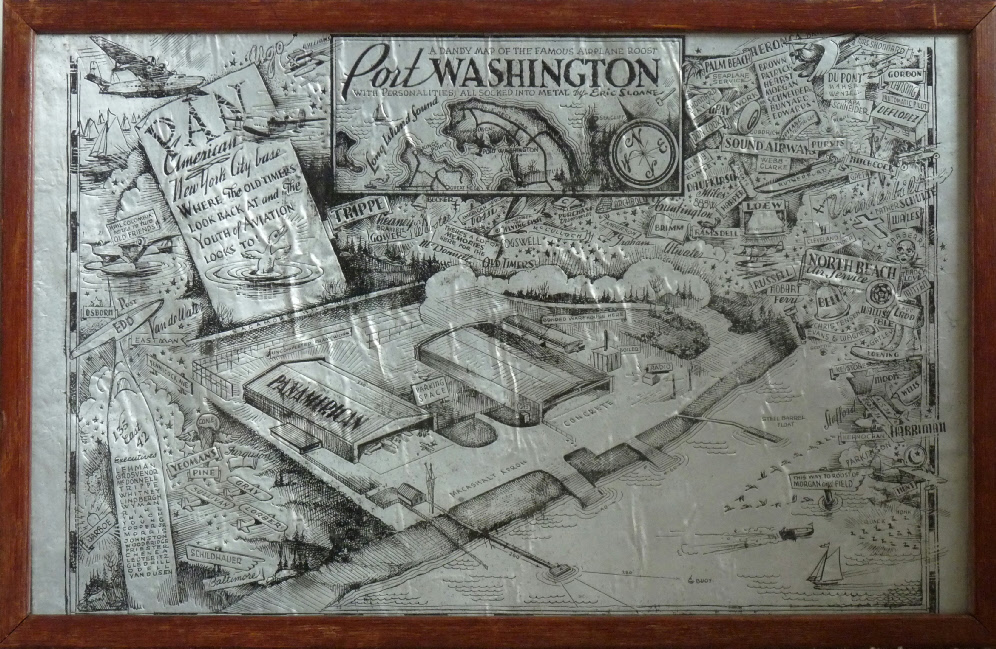 At some point in the 1950's, my father acquired this piece of work and I remember that he was quite pleased being able to get it. At the time, it held no interest for me. Looking back at old photos and remembering what my parents spoke about, I'll tell you everything I know about this. Below are enlargements of sections of the above picture.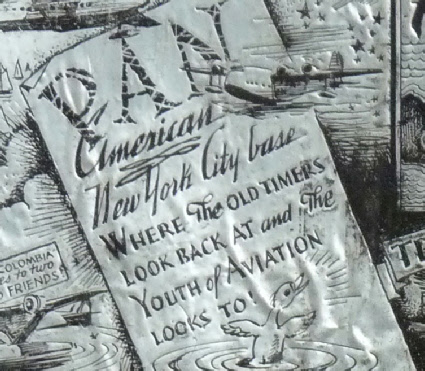 Of the two airplane hangars, the one on the left belonged to Pan Am, the one on the right to American Aeronautical Corporation. My mom said she helped paint the "Pan American" letters on the roof. The one on the right was very art-deco, see below.
"135 East 42" is a depiction of the Chrysler building in New York City; from the book, An American Saga - Juan Trippe and his Pan Am Empire, "Trippe's luxurious office occupied the corner of the fifty-eighth floor of the Chrysler Building."
"Executives" listed include:
"Trippe": Juan Trippe, the founder and major driving force of Pan American.
"Lindbergh": Charles Lindbergh, the first person to fly the Atlantic solo. He was used by Pan Am to survey new routes and was a famous name for the public to see similar to Eastern Airlines using Eddie Rickenbacker, WW1 flying ace.
"Priester" was a major player early-on (1927) taking over operating control of the airline and demanding perfection.
"Leuteritz" was responsible for the direction finders that made long-distance flying over water possible.
The rest are various Pan Am executives and board members.
My dad worked for Pan Am starting in 1934 in Port Washington, New York. That was the "New York" destination for the nascent transatlantic air travel industry. Later on, the destination was moved nearby to LaGuardia Airport.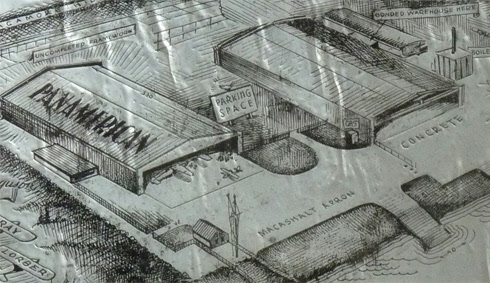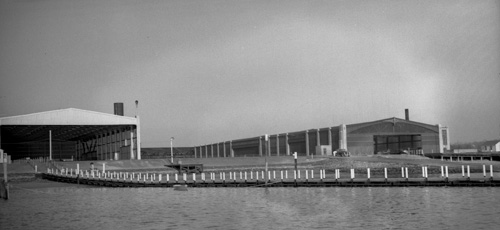 Eric Sloane's artwork of the Pan Am
facility at Port Washington as of 193?